Agricultural and forestry cooperative Gozd Bled
Farmers in the Bled area have been organising into co-operatives since 1898, when the first predecessors of the existing agricultural and forestry co-operative Gozd Bled were established in Bled and Gorje. Before the end of the Second World War, co-operatives supplied local inhabitants and hotel guests. During that time cheese-making was kept alive by the co-operatives of the villages Podhom, Bodešče and Selo. After the war, there were several attempts at reviving the cheese-making tradition on mountain pastures (e.g. Kranjska dolina, Belska planina and Selška planina), which, unfortunately, did not last long.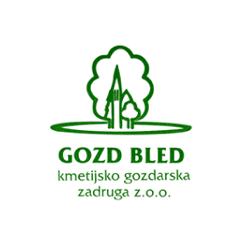 Kmetije
The beautiful cultural landscape surrounding Lake Bled has been shaped through the millennia by local farmers who take their herds to graze for part of the year on the meadows in the valley and on the nearby plateaus of the Julian Alps to which they are bound by ties of pride and affection.
High-quality cow's milk from family farms organised in to an agricultural and forestry co-operative is used to make a delicious culinary delight - Bled Cheese. Each farm carries a unique story.
Get to know them.
Farm PRI KRALJU
Selo pri Bledu
Farm PRI SVETINU
Selo pri Bledu
Farm PRI ŠOBCU
Lesce
Farm PRI ŠNETU
Bohinjska Bela
Farm PRI JAMRU
Bohinjska Bela
Farm MARKELJ
Mlino
Farm PRNAČ
Zasip
Farm PRI VORHU
Podhom
Farm PRI JEKLICU
Spodnje Laze
Farm PRI PRNIKARJU
Perniki
Farm MOSTAR
Zasip
 7 cows   
 5 ha
Farm ORENČOVC
Bodešče
 11 cows   
 8 ha
Farm PR' KVADVU
Zasip
 12 cows  
 7 ha
farmer:
Stanislav Ambrožič
Farm KAMNEK
Zgornje Gorje
 31 cows   
 23 ha
Farm PR' DORNK
Zgornje Gorje
 35 cows   
 25 ha
Farm PAVOVC
Zgornje Laze
 47 cows  
 60 ha
Farm POVŠIN
Selo pri Bledu
 50 cows   
 30 ha
Farm PR' DOVARJO
Selo pri Bledu
 55-60 cows   
 30 ha
AMBRUŽEVA Farm
Zasip
 160 cows   
 60 ha
Farm MULEJ
Selo pri Bledu
 178 cows 
 96 ha
Farm REPEČNIK
Spodnje Gorje
 200 cows   
 65 ha
Krave
Kakovostno kravje mleko Blejskih kmetij je rezultat premišljenega in srčnega dela. Nekatere od njih so še vedno organizirane zelo tradicionalno. V stoletja starih hlevih zjutraj in zvečer molzejo krave, ki se od zgodnje pomladi do pozne jeseni pasejo na pašnikih okoli Bleda in jih obiskovalci na svojih izletih tudi srečujejo. Nekatere kmetije imajo sodobne hleve in večje število živali, vsem pa je skupno, da še vedno velik del živali pasejo na planotah Jelovice, Mežakle in Pokljuke.
On the Bled farms, as in general in Slovenia, the most common cattle breeds of cows are Holstein (black and white) and Simmental (brown and white).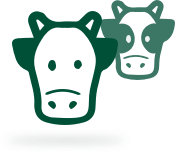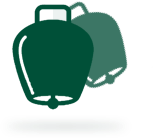 Gorje village has been known for cow bell making for centuries. The bells are still used by the a cattle on mountain pastures.
Dairy cows need a well-balanced diet that includes fresh grass, hay, grain and grass, and corn silage.